I believe I have a decent digital camera. It's a Canon PowerShot A540 that I just got this past Christmas and I actually like it a lot. It's easy to use and takes great pictures.
Except that sometimes small blemishes appear in the picture.
Maybe I shouldn't complain. This is the digital age, after all, and pictures can be deleted and retaken. I'm not big on taking pictures, but with this digital camera I've taken over 250 pictures in the past few months. Only a hand full have shown these spirit orbs - ok, dust orbs.
And the curious thing is that they've appeared only in pictures that include my son. Evidence of paranormal phenomenon?
The first time was when we were hiking in a local state park. I thought it had something to do with the location. But the latest occurrence is in pictures I took in our home just before he left for his senior prom. I had been taking pictures of him and his date earlier in the evening. Just before he left for the actual even he spent a few minutes hanging out at our home shooting some pool, so I decided to take some more pictures.
Again, it wasn't until I downloaded the pictures to my computer that I noticed some more orbs – this time in multiple shots. In two of the pictures, an orb seemed to position itself in the area of his attention, on the pool table. Below is one of those shots: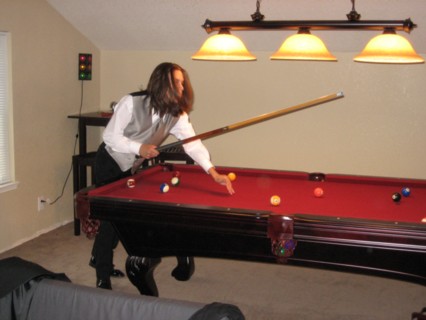 Depending on your monitor and browser, you may not be able to see the orb on the table. One thing I found interesting is that on digital displays the image is more pronounced if you view at an angle rather than straight on. Is there any significance in that? Beats me. Below is a closeup where I adjusted the brightness and contrast to get the orb to be visible on a different monitor.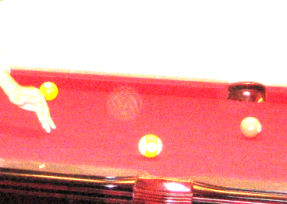 The most dramatic shot is where these "orbs" are actually on his person. It looks like he's being engulfed by them. Two are on his pant leg (again, the bottom orb might not be visible on some systems), some small ones are in front of him, and then some faint, larger ones high up the wall. What gives?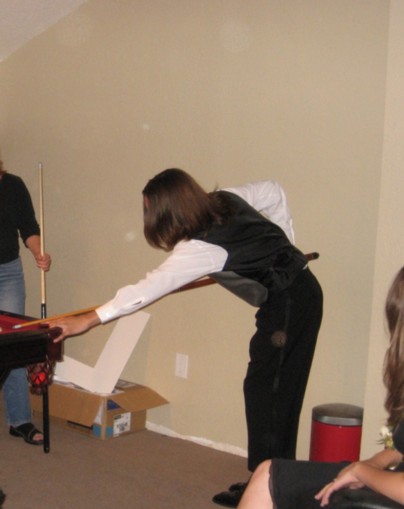 I was able to find more websites dealing with these orbs and many of them maintain that they are nothing more than dust in the air, close to the lens, that get caught in the flash. Apparently it's not that uncommon with digital cameras, and similar effects can be duplicated by throwing dust in the air and then taking pictures with the flash. But then you get a sea of dust orbs.
Whatever the cause, apparently I'll have to get used to the fact that some of my pictures will be "marred" by the occasional orb. And unless accompanied by truly frightening phenomenon, it won't be anything to worry about.