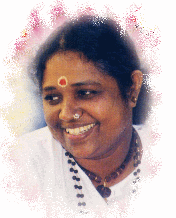 Imagine being transported from your everyday life to another world filled with magic and mystery. There are places in the world that offer that type of experience – Machu Picchu in Peru, Jerusalem, the pyramids of Eqypt, places loaded with spiritual and religious history. While I have yet to visit those places, I consider myself fortunate because I don't have to go far to get a similar experience.

Twice a year, the hills of San Ramon, California are graced with the presence of a Hindu woman named Mata Amritanandamayi, also known as Amma or Ammachi. Many people consider her to be a self-realized being, and her own stated purpose is to bring comfort to others through her embrace. Because of her spiritual stature, she has a positive spiritual effect on those around her. See my post Are There Really Enlightened Beings for a brief explanation of why I go to see her during her visits. During her tours of North America she visits her ashram in San Ramon. The final evening of her visit is a special occasion called Devi Bhava. It is this event that I've been attending for the last several visits, and which I just enjoyed a week ago. The event never fails to be a special time filled with synchronicities and spiritual lessons that fill the entire evening.
Devi Bhava begins at around 6:30pm with an Atma Puja – a ceremony performed for the spiritual advancement of the world. This is followed by Amma's darshan, where one by one she blesses all in attendance with a hug. During this darshan she embodies the spirit of the divine mother, and dresses in special ceremonial clothing. Because this involves several thousand people, the darshan usually lasts well into the next morning.
"Entering Spirit Time"
Because parking is limited at the ashram, they direct most people to a public transit parking lot a few miles away. From there, they have shuttles to get to the ashram. When looking at the people standing in line for a ride you catch a glimpse of the type of people who would go through this trouble to get a hug from a Hindu woman: couples with young children in tow, other young adults, some "older" baby boomers, and also some elderly, some who look like soccer moms, and others who look like they came straight from Woodstock, young white people with dreadlocks, and older men who look like retired Boeing engineers.
The anticipation is palpable, and on one occasion, after a group of us piled into the minivan, a rather mature looking woman turned around to face the rest of us and said, "We are now entering spirit time! Now the lessons begin."
And so we were off. A group of strangers, yet connected through this common interest. For a short while we shared the same experience on the ride to the ashram, but once we arrived and unloaded, we each embarked on our individual journeys, to learn our individual lessons.
In a recent visit I thought I would be clever and go straight to the remote parking. This set off a comedy of errors as I first took a long time to even find the spot, and then when I did (after 30 minutes of driving around), I realized by the absence of anyone there that the BART public parking was no longer being used. So back to the ashram I went so I could get directions to the new parking. By the time I got there, got picked up by the shuttle (there was long line so this took awhile) and finally made it back to the ashram, I thought for sure I (and my son David who accompanied me on this occasion) had missed the atma puja. This provided an opportunity to accept the situation, not have expectations, and be at peace with whatever happens.
The Puja
Normally by the time I get there the temple is filled to capacity, so I would make my way to the cafeteria which serves as the overflow room during the puja ceremony. And on this occasion when I thought we were a hour late, the cups of water (I'll explain later) were just being handed out – we hadn't missed it after all!
A television monitor lets us see the stage of the temple where Amma performs part of the ceremony, blessing the elements. The water that she blesses is then poured into small cups and distributed to everyone. Holy water. On my first time at Devi Bhava, a friendly woman, who struck me as a a cross between a Hare Krishna devotee and Ruth Gordan (remember Harold and Maude?), offered me a tip, "I use this to bless all my drinking water. It goes a long way". And then she explained with a twinkle in her eye, "because it only takes a drop!"
Then the chanting portion of the puja begins. We all stand and perform an expression of offering with our arms while chanting "Om parah shakti namaha". This is an extremely powerful experience. The combined voices of everyone in the cafeteria and the broadcast of all those in the temple join to create a tremendous reverberation and outpouring of energy which increases with each repetition of the mantra. When it's over and we sit back down, I always enjoy feeling the energy still flowing.
Shortly afterwards, Amma begins her darshan. They have a system where everyone who wishes to receive darshan is given a token, or ticket, with a number range or group printed on it. You enter the darshan line when they announce your number group (through placards in the temple). By the time I get my token the number on it is usually quite high, which means I have plenty of time to get something to eat, wander around the grounds, sit in the temple, and just soak in the atmosphere.
And that atmosphere is magical.
Synchronicities and Lessons
After the puja ceremony they serve a vegetarian Indian meal. It was while waiting in line that I met a woman who in the course of chit chat I found out lived in the same town as I, and had a daughter the same age as my son who attended the same high school.
On another occasion a man who was visiting for the first time left the dinner line to get a token for receiving darshan. While he was gone, a volunteer started to come through the line to hand out tokens . I felt bad that this guy was going to miss out. Right before the woman reached us, another volunteer engaged her in a long discussion about some procedure or detail of some assignment or whatever. Just as she resumed going through the line, the man came back looking disappointed that he couldn't find where to get a token, but relieved when the attendant handed him one right away.
But perhaps the most auspicious event occurred this recent time when David was with me. We had just sat down at a table in one of the snack bars when David noticed a basket filled with paper shapes; each with a word written on it such as spirituality, encouragement, charity – all positive expressions. One of the words was "discrimination", which David – not understanding the full meaning of the word – felt was not an appropriate sentiment. After David went through all the slips and stacked them neatly, an elderly man sat himself across from us and started looking through the basket. David, being more sociable than me, made some friendly comment about going through every slip. When the gentlemen turned over the slip that said "discrimination", I mentioned that that one gave David some trouble. At that point the man went into a very intense discussion about why discrimination is important as a spiritual practice. He then started talking about spiritual practices in general and basically delivered a Spirituality 101 lecture. I enjoyed listening to him, but more importantly David enjoyed it as well. It seemed to come out of nowhere.
The cool part was that I could never have expressed myself the way this man did without feeling self conscious about lecturing, and there was no way that David would have wanted to listen to a long diatribe from Dad. But as I nodded along with practically everything the stranger said, David learned a lot about what I believed, and also received a balanced view of spirituality that hopefully tempered his cynicism towards religion. I couldn't have asked for anything more.
Timelessness
Hindu bhajans are played inside the temple, providing a distinct Indian atmosphere as I wander though the crowd. Young devotees are often seen dancing on the upstairs balcony – especially with the more lively bhajans. As the evening wears on, many people settle in one spot, finding corners here and there to nestle as they wait. I'd even come across individuals who had no intention of getting a hug from Amma – they were there just to be in the temple during Devi Bhava.
Outside the air is cool and the sounds are more subdued. Various snack shacks line the paths around the temple. A snack tent provides a place to sit, drink some chai, or enjoy a variety of vegetarian snacks – including cheese pizza.
Every so often I make my way back to the temple to check on the progress of the line. In the beginning it seems as if the placards take so long to progress from one group number to the next. There often doesn't seem to be any consistency either in how fast the numbers progress. Eventually the number is close enough so that the best thing to do is stay inside the temple. By then I can usually find an open seat and so I spend the remaining time seated and meditating to the sounds of the temple.
And then they flip the placard and my group number appears. From that point time seems to speed up as the ritual scooting on the floor and hopping from chair to chair goes on until the next thing you know you're up on the stage at Amma's feet, your back to temple crowds. After receiving Amma's hug, I find myself walking down the steps off the stage. For me, the evening is over. The hug, as special as that is, is just the culmination of an entire evening-long experience.
I make my way out of the temple, locate my shoes, and head down the driveway. The light of dawn shifts the energy from the night to a new day. Had I really been awake all night? Throughout the entire evening time didn't seem to exist in the normal way, and it doesn't feel like ten hours had passed since I first arrived.
The Magic Continues
At the bottom of the temple driveway is a pick-up spot to catch a volunteer shuttle to the off-site parking. Some people arrived from some other route and need to find a ride to BART, the airport, or just to a bay area town. One man walks up saying he needs to catch a ride to Union City – one of dozens of towns in the area. The attendant flags down a car heading out and asks the driver "Where are you headed?"
"Union City."
So even at this stage of the journey, magic abounds. One of the other people waiting for the shuttle said "Amma definitely had a hand in that." I don't have the same beliefs that many of the devotees have, but I do feel that around the temple and at these events there is a strong spiritual atmosphere that is conducive to synchronicities and the flow of grace.
An hour later I arrive home, grateful to have had yet one more opportunity to leave the cares of suburbia behind and immerse myself in the magic and grace that surrounds the hugging saint, Ammachi.