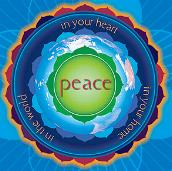 Listening to good music – relaxing – chanting – laughing – singing – practicing a few yogic breathing exercises – sharing with others an experience of peace … I experienced all these in one evening a few weekends ago at a concert performed by Snatam Kaur.
And it was awesome!
Snatam Kaur came to Palo Alto as part of her Celebrate Peace tour, "a global effort to bring peace to the hearts and minds of individuals everywhere" according to the Celebrate Peace web site. I've written about how much I enjoy some of her music in this post and this post, so I was prepared for an enjoyable evening. I wasn't disappointed.
She walked to the stage with the other performers, dressed in pure white Sikh garb, and after seating herself by her harmonium, right away conveyed a connection with the audience – a sincere desire for all to experience peace that evening. I'm sure the high-tech sound system as well as the good acoustics in the church didn't hurt any, but from the moment she opened her mouth to sing, her – dare I say angelic – voice seemed to pierce the air and directly enter the hearts of everyone there.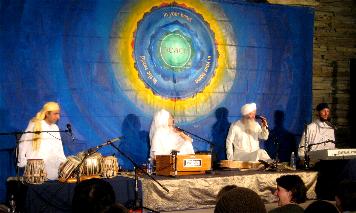 She was accompanied by some excellent musicians. On guitar was GuruGanesha Singh, Snatam Kaur's producer and founder of Spirit Voyage Music, Manish Vyas, renown musician and master of the tabla, and Ram Dass Khalsa on keyboards and clarinet, an inspiring example of a young person developing his talents and spiritual devotion.
The Music
Like other kirtans that I have participated in, this one involved a lot of audience participation. That's all part of the experience for the audience as well as the performer. But whereas traditional kirtans primarily involve call and response chanting, in this concert she had everyone singing/chanting along with her. It deeply contributed to the sense of union between everyone there in the church. There were a few English songs as well, and though not quite as repetitive, the words were still easy to pick up and follow along with.
Cool Breathing Exercises
At one point, she had the audience participate in a few Kundalini Yoga breathing exercises. You might imagine that this would have involved a break from the concert experience – a sort of time-out for some mechanical activity before getting back to the music. At least that's what I expected – but I was wrong.
With tabla and guitar keeping a steady rhythm, Snatam demonstrated the first technique and had the audience follow along. The first exercise involved holding your hands up by your shoulders, palms facing up, and then twisting your wrists while breathing out. OK, this is easy, I thought. But once everyone understood what to do, she would say "Now catch the breath" – which meant that the breathing would take off in earnest at about twice the pace! Whoaah. And all the while GuruGanesh kept playing this jazzy-Indian guitar riff to keep everyone on track.
She repeated the process for the other exercises – the demonstration and audience follow-along, then "catch the breath" and off we went. Each exercise lasted awhile, and the ironic thing was that, instead of this being a break from the rhythm of the concert, the breathing exercise actually fell into the natural flow of the evening. And the end of it I was even more energized than I was just from the music alone.
Sikh-based, Yet Universal
No surprising, there were several people of the Sikh tradition there. To be honest, I don't remember seeing any Sikhs at any other kirtan that I've attended. How could I tell? Well, for those unfamiliar with this spiritual tradition, Sikh men wear the turbans and usually have long beards. These are Sikhs – not Arabs, and not Muslims. The turban and beard are worn as a reminder to live according to the spiritual principles to which they are dedicated.
But even with this background, the concert was actually a very interfaith-type experience. All were made to feel welcome, regardless of religious beliefs. One thing that she did that made me feel more connected was to explain the meaning of the chants. It emphasized ideas that are universal across all faiths. The following are a sample of common phrases that were incorporated in several of the chants/songs.
Ek Ong Kar: The Creator is one
Sat Nam: Truth is God's Name
Siri: Great (used as a title)
Waheguru: Praise to the Divine here and now, which brings you from darkness to light
The Audience Experiences Peace
This concert touched me emotionally more than any other that I had been to. You could feel the love radiating from the stage, vibrating within the music, and filling everyone as they chanted in unison. There are many avenues to take to pursue peace in this world, and Snatam Kaur is definitely pursuing an effective route by sharing her music in a way that allows everyone to experience a taste of the peace and unity that can transcend cultural differences. At the end of the concert, it was difficult not to feel motivated to pursue peace in our hearts, in our homes, and in the world.
While no recording can really do justice to the live experience, here are a couple of videos (available for download from Snatam Kaur's website) from her Celebrate Peace tours in Barcelona and Vancouver.
httpv://www.youtube.com/watch?v=mbGTMh8NZIs
httpv://www.youtube.com/watch?v=E_yVNtDK1Gg
In the video from Barcelona the song is Aahkan Jor from her CD Shanti
.
In the video from Vancouver is a song from GuruGanesha's CD Pure Ganesh, called Ma.